It's a sellers' market. The first half of 2018 showed the exact same number sales, 52, during same time frame last year.

The difference is the "downtown Lowell" market shows pricing, on average up +12% since last year. The average sale price per sq. ft is now $225 per square foot compared to $195 square foot same time last year. Your values are going up!

Buyers are out there. Sales have slowed only because there is little inventory on market. I know you are tired of hearing it, currently there are only 12 units for sale in downtown. We need listings. If you have thought about selling, please contact us and I will personally work with you to get the most money on the sale of your home.

NOW is the time to list!

So, if you are moving out of downtown, to New Hampshire or Cape Cod or anywhere we can help. After owning and living in downtown many of you are thinking of moving or moving as result of job change, newly married, needing bigger space or just time for a change. Call us.

LowellLofts.com has partnered with Keller Williams, the #1 real estate specialists in North America. I can personally help with your sale and I now have a team of associates locally and coast to coast who can deliver the same customer service on your new purchase that you have come to expect from LowellLofts.

LowellLofts.com has compiled a 2018 midyear sales analysis for each downtown property on page 2. Please review and call us anytime with questions or input. If you would like a monthly update on real estate activity send us an email to info@LowellLofts.com and request the monthly update.

Lastly, I need your help. If you know anyone looking to buy or sell real estate, please call me. 617-909-7037.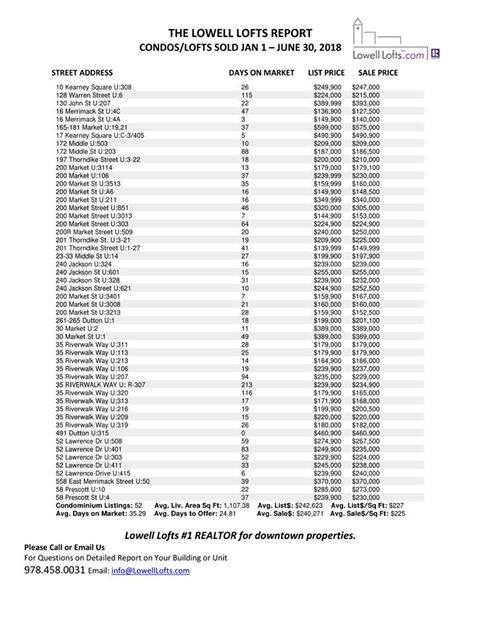 Thank you,

LowellLofts.com
John Callahan, REALTOR